25 Oct 2022
In Conversation with British Painter Sean Jefferson, for David Messum Fine Art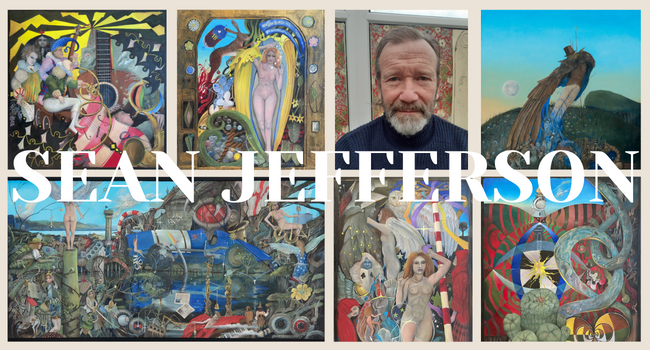 Sean Jefferson's paintings are unlike anything previously shown at Messum's – indeed, it might be argued they are quite unlike any thing any contemporary British artist is currently exhibiting. Find Sean Jefferson's work at The Winter Art & Antiques Fair running from Monday 31 October - 6 November 2022. Our Exhibitors are all experts in their own field and have many years of experience and a great depth of knowledge as demonstrated below:
When did you become an artist?
I considered myself as an Artist in my late twenties when I started to have work in The Portal Gallery, prior to that I had only worked with Automatic Drawing related to experiments in Spiritualism. The mother of a school friend of mine was a medium, and as a teenager I became deeply involved in Spiritualism, attending séances where accomplished mediums contacted the spirit world. Séances were something the Pre- Raphaelites had tried, too. As is clear in my work, I also have a shared Pre- Raphaelites interest in the occult and folklore which runs deeply through my pictures.
I first discovered Surrealism in 1976 following the death of the great German artist Max Ernst. It was this that inspired me to pursue the life of an artist. It was actually as a student of Microbiology at Imperial College, London, where I first really learnt to draw; making careful records of plants and small animals and anatomical dissections. The most important thing about these studies was that the evidence based scientific model was hammered into us until we were hard wired. This meant that on making the decision to become a professional painter, although I had only average artistic ability I would meticulously note elements that worked and learn how to reproduce them at will.
What / who has been your constant inspiration?
Apart from a constant flow of imagery and ideas which never seems to dry up, coming from goodness know where, I have always been inspired and energised by the electric guitar improvisations of Jimmy Page, Hendrix etc. There is some kind of synesthesia between line and the notes in the blues scale and colours and textures in the timbres they achieve, seemingly pushed beyond all limits. Listening to this stuff reminds me to keep pushing!

What is your favourite period?
For me, Western Culture reaches its climax in the Victorian and early Edwardian period. Certainly, in Painting, no other period comes close. Many of my paintings have their origin in the art of the nineteenth century: Samuel Palmer, the Pre-Raphaelite Brotherhood, the fairy painting of Richard Dadd and fin de siècle Symbolism all play important parts. Surrealism also played an important part as it was not just as a school of painting, but also a philosophy for life. For a long time I was sure surrealistic image-making was the way forward in my investigations. I quickly discovered Symbolist Art and the serious Victorian fairy-painting genre, also discovering I had a deep feel for the 'British Pastoral', which came out strongly during my time living in the country side of Cornwall.
What is it do you think that engages clients most with your work?
I get the impression that people engage with my work in highly individualistic ways. No two people are really the same. I do think, however, that it comes from a very deep place, almost as though it is engaging with some distant folk memory which we all carry.
If you could own one artwork from any museum, what would it be?
I would have the whole of the Victorian collection in Tate Britain, including Richard Dadd (1817-1886), John William Waterhouse (1849-1917) and the Pre-Raphaelites etc. plus some work by the Finnish Symbolist Hugo Simberg (1873-1917). If I were only allowed one picture, it has to be The Garden of Earthly Delights by the Netherlandish master Hieronymus Bosch (c.1450-1516). This work of Bosch feels like the root of all the otherworldly Art I love, with many points of focus which can be scanned in any order giving so many different narratives. At its heart is an enigmatic Christian mysticism and having this major work to contemplate alone would, I think, be an ongoing pleasure and enlightenment.
What's your favourite part about being an artist?
I find that there is very little or nothing that isn't completely absorbing about being an artist. I think it is fulfilling to complete the process of painting a picture, and then find a buyer for it and making that deep connection with someone who is often a complete stranger. This Art thing certainly feels like a journey for both artist and collector where often it takes courage to follow one's instincts rather than take the obvious well-trodden path.

Which stand out piece are you bringing to the Winter Art & Antiques Fair Olympia?
I am bringing, Full Moon, Peartree Fairies (2022) It is my largest ever Fairy Painting in the tradition of the great Victorian Fairy painters, Richard Dadd and Anster Fitzgerald (1819 – 1906). My interest in diminutive fairy characters is used in my art to express various human states of mind or the hidden forces of nature, unencumbered by clothes or haircuts that would fix them in any particular time or society. One of the many theories as to the origins and nature of fairies, mostly contradictory, is that they are a race of beings who live a life of revelling, dancing and causing mischief to humans, but have no mortal souls, and so on the Day of Judgement they do not have to account for themselves, they just sadly fade away. Good for a Halloween opening!
Tell us about a piece in your personal collection that is special to you.
It is cheating a bit say but my whole collection of automatic drawings by Austin Osman Spare (1886-1956). From the moment I saw Spare's work I felt an intense identification. In his drawings he absolutely captures the feel of the presences in a séance room combined with the sense of the old elemental Spirits of nature.
And finally, what do you to relax?
I was part of the team which won this year's top division of the over 60s North Kent Tennis League. Otherwise, compared to that, painting is my relaxation.
Discover Sean's work and much more all at The Winter Art & Antiques Fair Olympia London which runs from 31 October - 6 November 2022!