Robert Buhler RA Alderney Street, Pimlico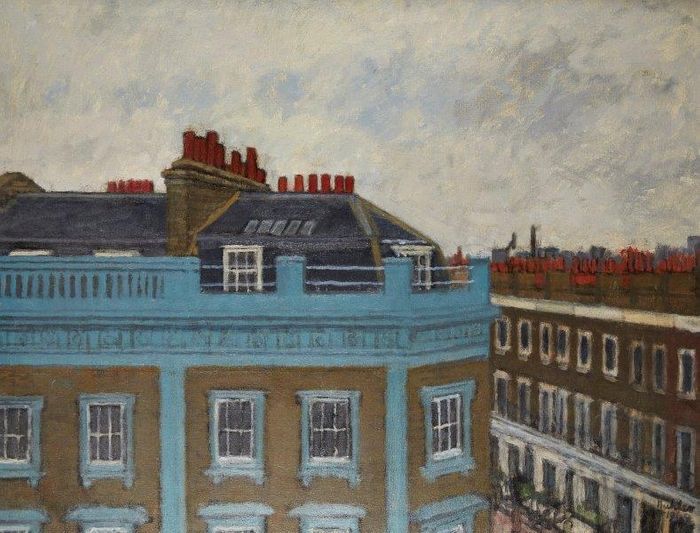 Robert Buhler RA (1916 -1989)
Alderney Street, Pimlico
Oil on canvas
71 x 91cm
£3,550
Buhler's muted palette and stylised sky, coupled with a characteristic upstairs-window viewpoint, create a contemplative view of the Pimlico street at its junction with Warwick Way.
Buhler was a landscape artist, born in London in 1916 to Swiss parents. The young Buhler studied commercial art in Basel and at the Kunstgewerbeschule, Zürich. In 1933 he returned to London, where his mother had a bookshop and café in Charlotte Street, Fitzrovia. He was a student at the School of Photoengraving and Lithography, Bolt Court, then in 1934 joined the Saint Martin's School of Art, where he was taught by Leon Underwood and Vivian Pitchforth. In 1935, he won a scholarship to the Royal College of Art, but was there for only six weeks. He befriended members of the Euston Road School, some of whom visited his mother's bookshop, and this influenced him towards landscape painting and his use of restrained tones, although he did not join the group.
Buhler painted London scenes and exhibited in the Royal Academy Summer Exhibitions from 1945 to 1948. While mostly a painter of places, he was also a portrait artist, his sitters including Francis Bacon, Barnett Freedman, John Minton, Ruskin Spear, and Stephen Spender.
Buhler exhibited at many galleries and taught at the Wimbledon School of Art, the Royal College of Art, the Chelsea School of Art and the Central School of Arts and Crafts. He was elected an Associate of the Royal Academy (ARA) on 24 April 1947.
In 1948 Buhler joined the London Group. He lived in Chelsea and painted many cityscapes, typically using muted colours, often using upstairs windows as a view point. On 21 February 1956 he was promoted to a full Royal Academician, and in that capacity took part in the selection process for the Academy's Summer Exhibition. In 1982, Buhler won the Wollaston Award of the Royal Academy, and in 1984 the Hunting Art Prize for his painting 'Vineyards, Neuchâtel'.
Condition: excellent.
Categories
Modern British & 20th Century Art