Place de la Concorde, Paris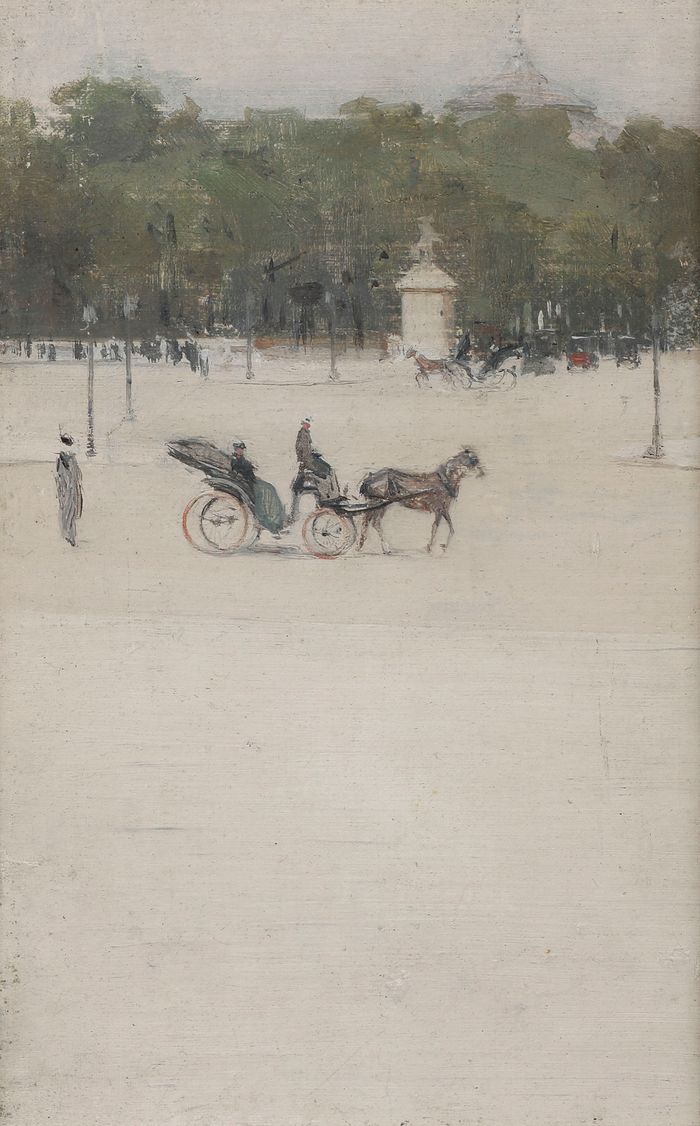 Sir Herbert James Gunn, R.A. (1893-1964)
A carriage at Place de la Concorde, Paris, 1911-1912
Oil on board, inscribed verso: Grindlay, inscribed on old backing paper by one of Edward Grindlay's children: An early James Gunn/My father admired it in the/Studio so James framed it/and gave it to him
22.4 x 14.2 cm.; 8 7/8 x 5 5/8 inches
Frame size 38 x 28 cm.; 15 x 11 inches
Provenance
Given by the artist to Edward Grindlay;
By descent until 2021
This beautiful view of the Place de la Concorde was done in 1911-1912 when Gunn studied at the Académie Julian in Paris under Jean Paul Laurens. It is previously unrecorded and a significant addition to his rare small pictures of Paris.
While in Paris Gunn started to make tonally delicate panels of the city on small boards, using a muted palette reminiscent of Whistler, capturing street scenes with tiny figures drawn with a few strokes of the brush. He also made regular visits to the Louvre to draw from the Old Masters and rented a room at 2 bis rue Perel. His small pictures of Paris are not numerous and are highly sought after.
Gunn has painted this work from near the centre of the Place de la Concorde, looking towards the eastern end of the Champs Elysées, with the Grand Palais visible behind the trees of the Jardin des Champs-Elysées. The statue on the plinth is one of the famous Chevaux de Marly by Guillaume Costou, brought from the Chateau de Marly in 1719 and now in the Louvre.
James Gunn attended drawing lessons from the age of five. He studied at the Glasgow School of Art, the Edinburgh College of Art before he went to Paris. Gunn returned to Edinburgh in 1912 and also spent time in London. Early in 1914, at the instigation of the London dealer W.B. Paterson, he travelled widely in Europe, sending pictures back home, and revisiting Paris and Étretat. He enlisted with the Artists Rifles in 1915.
Gunn gave a speech to the Glasgow Art Club in November 1955 and reminisced about his early career,
'…In Paris I studied at the Académie Julian under Jean Paul Laurens…I returned from Paris with a collection of sketches made in the streets and by the river. Many of these passed through the house of Anna. There they were seen and some were purchased by a dealer from Bond Street, W.B. Paterson, brother of the distinguished Scottish Academician, James. He gave me a contract, paid me a retaining fee and I undertook to provide him with not less than thirty pictures a year. At his instigation I went to Spain at the beginning of 1914. There I travelled, seeing and painting, till the echoes from Sarajevo warned that the good days were soon to end'.
Edward 'Teddy' Grindlay and Gunn met in 1917 towards the end of WWI when they were commissioned into the 10th Scottish Rifles, the beginning of a life-long friendship. Gunn's drawings of his fellow officers were published in a book 'The 10th Battalion, The Cameronians (Scottish Rifles): a Record and a Memorial 1914-1918'.
Grindlay saw this oil sketch in Gunn's studio and admired it, so the artist had it framed and gave it to his friend. Edward and his wife Evelyn were both painted by Gunn who also painted a conversation piece of their house at 1 Newton Grove, Bedford Park in London in 1927. They later moved to Westcott near Dorking. They owned many paintings and drawings by Gunn who used his friend as a model for Maurice Baring in his famous conversation piece with Hilaire Belloc and G.K. Chesterton, which is now in the National Portrait Gallery, London (NPG3654). He received commissions from many of the leading figures of the day and painted the Royal Family in another famous conversation piece at Royal Lodge, Windsor (NPG3778).
Gunn had a successful career as a portrait painter and in 1961 was elected a member of the Royal Academy.
Categories
Modern British & 20th Century Art