A pair of macaws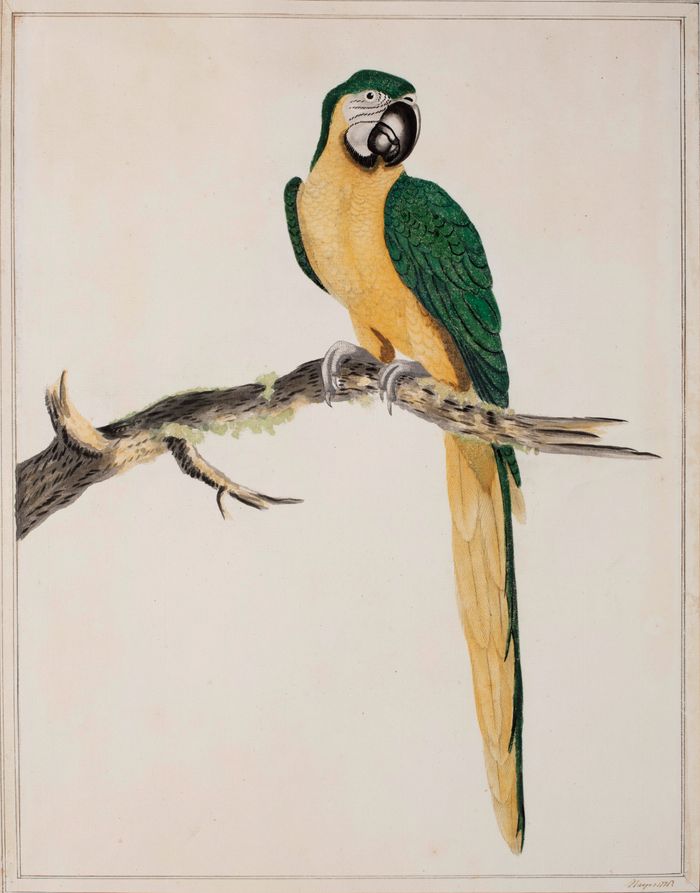 William Hayes (1735-1802)
A red macaw and a blue macaw
A pair, each signed and dated l.r.: WHayes 1778, pen and black ink and watercolour heightened with bodycolour with a pen and ink border on laid paper, one watermarked with the Strasburg lily the other watermarked JWHATMAN, inscribed with titles beneath mounts
Each approx. 1 42 x 30cm.; 6 ½ x 11 ¾ inches
A self-taught artist, Hayes worked from live specimens he kept in captivity, as well as birds from the collection of one of his patrons, the Duchess of Portland. Like Audubon, Hayes depicted birds at life size whenever possible. He presumably taught his wife Anne and children including Charles, William, Annette, Emily, Maria and Matilda with whom he worked at drawing, printing, colouring and assembling volumes, and some of his bird illustrations were drawn by other members of his large family.
In the mid-1780s, Hayes moved to Southall, near Osterley Park, and the estate's owners, Robert and Sarah Child, of the banking family, who collected exotic birds, became his patrons. Horace Walpole described 'a menagerie full of birds that comes from a thousand islands which Mr. Banks has not yet discovered' (Walpole to Lady Ossory 21 June, 1773. (Lewis, ed. Walpole's Correspondence, 1937), 126).
Hayes and his family also painted portraits of birds belonging to John Montagu, Earl of Sandwich.