Kenneth Rowntree Abstract Australian Landscape watercolour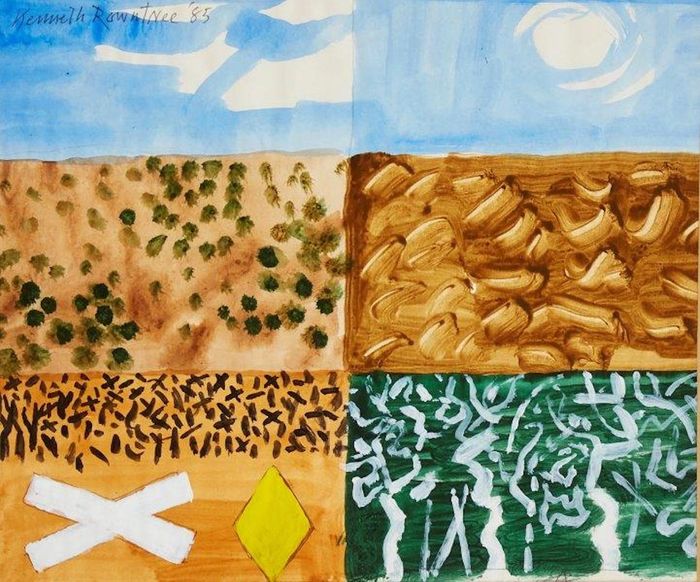 Kenneth Rowntree
Abstract Australian Landscape
Watercolour
27.5 x 33cm
Signed (top left) and dated 'Kenneth Rowntree '85'
£4,300, framed
Provenance: Anderson & Garland Studio sale of Kenneth Rowntree lot 263 Tuesday 8 September 2009
Rowntree visited Australia in 1984/85. In this painting he picks up various vignettes from the Australian landscape in six separate blocks. Two relate to the sky, with almost-unbroken blue skies stretching from horizon to horizon, three relate to desert areas, with a whole array of different textures, and one is a luscious green. In one of the desert scenes he has picked out two road signs, in typical Rowntree fashion, reducing them to their simplest form. In her essay Kenneth Rowntree: A Strange Simplicity (published in Kenneth Rowntree A Centenary Exhibition Published by Moore-Gwyn Fine Art and Liss Llewellyn Fine Art, on behalf of the artist's estate, on the occasion of the centenary of Kenneth Rowntree's birth) Alexandra Harris makes reference to this painting noting:
Later, in 1986, just when the young David Hockney was collaging the signs and road-markings of Route 138 in Pearblossom Highway, Rowntree was in Australia painting yellow diamond-shaped road-signs as bright icons in open country. Wherever he went, Rowntree captured both the unfamiliarity of places and their relationship to things he knew. Heading into the Australian outback, he painted a road-sign as he would paint a rail signal at Clare in Suffolk or nautical markers at Swansea.
Hockney's 1986 Pearblossom Highway may be seen here in the Getty and it is worth noting that Rowntree was in fact painting the yellow sign in 1985, so a year before Hockney.
Kenneth Rowntree (1915-1997)
Rowntree was born in Scarborough and educated in York where his father managed the local department store. Young Kenneth's work was displayed there and his first major commission arose from an advertisement at the store. After the Ruskin School of Drawing in Oxford he studied at the Slade School, meeting Eric Ravilious and Edward Bawden and then moving to north Essex to work with them as members of the group of Great Bardfield Artists.
Between 1940 and 1943 he was one of the team of over 60 artists engaged by the War Artists Advisory Committee for the 'Recording Britain' project, to record the face of England and Wales before wartime action – or development – changed it for ever. Rowntree's keen sense of design, and fascination with the quirky and the vernacular made him an ideal candidate to interpret our built heritage's more unusual aspects.
In 1951 he painted murals in the Lion and Unicorn pavilion for the Festival of Britain, he decorated the route of the Queen's Coronation procession (some of the works being acquired by Her Majesty).
During a teaching job at the Ruskin School of Drawing in Oxford he was driven, perhaps by his experiences recording Britain, to record the decorated barges that belonged to the Oxford Colleges. These wooden Victorian ceremonial barges had belonged to the London livery companies, but were acquired in their later life by the Colleges to be used as changing rooms and clubhouses for the College boat clubs – depending on the size of the barge rowing eights were stored on board too. Part way through painting one of them Rowntree thought his drawing incorrect until he realised that it was the boat that was moving. It was in fact sinking. These days the Colleges have modern (but unromantic) boat houses; a handful of the barges remain – restored – in private hands.
In 1959 he was appointed Professor of Fine Art at King's College, Newcastle (latterly part of the University), which as British art schools went was one of the most progressive. The Master of Painting was the abstract constructionist Victor Passmore, and his assistant the 'Father of British Pop Art' Richard Hamilton. Master of Sculpture was John Robert Murray McCheyne who never really left Newcastle but produced a series of important public art commissions in the North East. In this environment Rowntree became receptive to assemblage and constructivism and other modernist idioms, incorporating them into his own work.
Erno Goldfingers's Alexander Fleming House (now Metro Central Heights) at the Elephant and Castle boasts coloured glass screens in the entrance halls by Rowntree.
If you are interested email info@manningfineart.co.uk or call us on 07929 749056.
Categories
Modern British & 20th Century Art