Japanese bronze quails signed Atsuyoshi with seal Maruki Meiji period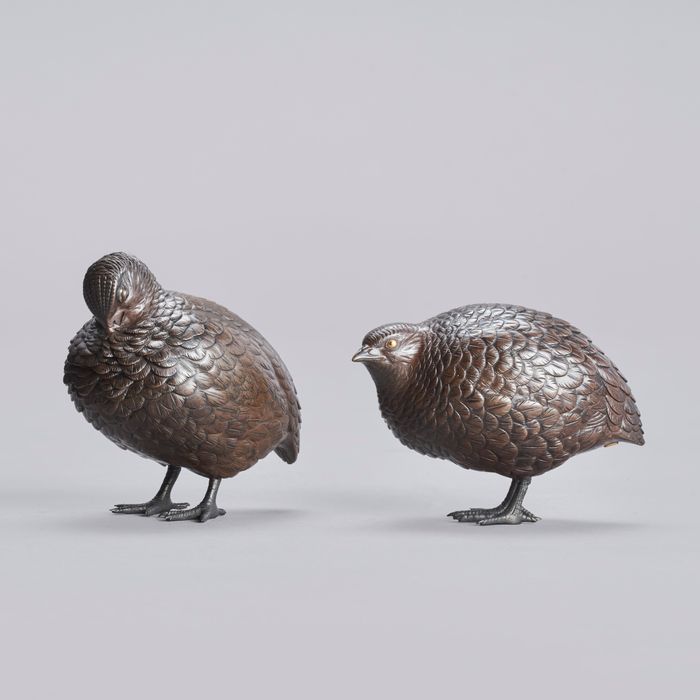 Japanese pair of bronze quails one is looking to the left, the other is preening its feathers with gilt and shakudo eyes, signed in an oval reserve Atsuyoshi saku 厚義作 with seal Maruki sei まるき製 (made by Miyabe Atsuyoshi for the Maruki Company), Meiji period 1868-1912.
The quail 鶉 (uzura) is symbolic of the Autumn season, and also of courage and victory in battle.
The artist Miyabe Atsuyoshi is recorded in Wakayama Takeshi 若山猛, Kinko jiten 金工事典 (Dictionary of Metalworkers), Tokyo, Token Shunju Shinbunsha 刀剣春秋新聞社, 1999 p.1141, as a maker of sword-fittings and was a pupil of Shinoyama Tokuoki (1813-1891), active in Kyoto during the late Edo period and early Meiji era.
The Maruki workshop was based in Sukiya Street, Nihonbashi ward-Tokyo, made fine quality bronzes and carvings during the Meiji Era, and exhibited at many domestic and International exhibitions.

Reference: 'Meiji no Takara 明治の宝 Treasures of Imperial Japan-The Nasser D. Khalili Collection' the Kibo Foundation 1995, Metalwork Part II, no. 93 and no. 103.
Also see 'Splendors of Imperial Japan, Arts of the Meiji Period' J. Earle no. 188.
Categories
Metalware, Coins & Medals
Oriental Ceramics & Works of Art
Ormolu & Bronzes
Sculpture
Works of Art