Charles Ginner oil painting Backs of Gardens Oxted Surrey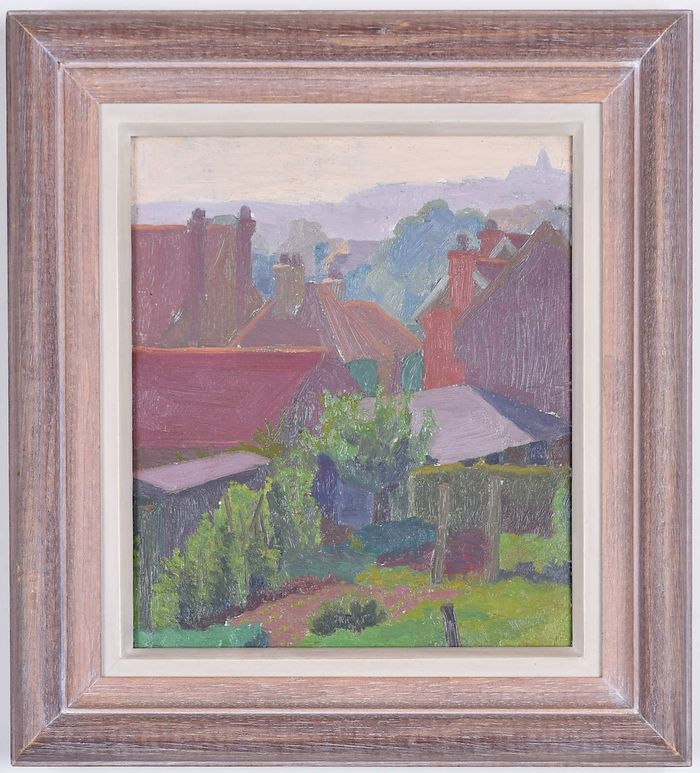 An influential member of the Camden Town Group from 1911, Ginner was born in France and lived for nearly ten years in Paris, studying at the Academie Vitti, but soon leaving to be guided by Vincent Van Gogh, Paul Gauguin and Paul Cézanne. His first one-man show was in Buenos Aires, assisting in the introduction of post-Impressionism to South America.
On moving to London in 1910, British artists regarded him as an authoritative figure on the subject of continental modern art. He was an associate of Harold Gilman and Spencer Gore. He joined the London Group in 1913. He served in World War I, eventually for the Canadian War Records for which he painted a Hereford powder-filling factory. In World War II he again served as an Official War Artist painting bombed views of London and harbour scenes.
Although living in England the rest of his life, his French accent remained for many years. He died in London
His works are in many public collections such as the Tate Gallery and National Portrrait Gallery.
If you are interested email info@manningfineart.co.uk or call us on 07929 749056.
Categories
Modern British & 20th Century Art